Join us in supporting the spirit of outback Australia
Like more than 50,000 NSW patients that we're proud to help each year, the Harvey family relies on the Royal Flying Doctor Service (RFDS) for all their medical care.
The Harvey's operate the isolated Caradoc Station, about 30 km north of White Cliffs in outback NSW. At 130,000 acres, the station plays an important role in the state's farming. It's also a long way away from help in an emergency.
Living and working on Caradoc, the Harveys have seen their share of medical emergencies over the years. Like the time young Henry Harvey had a potentially life-threatening snake bite.
One of three children growing up on the station, Henry, aged 10, remembers the day clearly. He was outside playing with his mum, Christine. "I put my hand down a hole and something bit me" Henry recalls. "I pulled it out and was screaming. There were two marks on my thumb". Over the years, Henry's dad Nathan had killed plenty of deadly brown snakes on the farm. Christine knew the bite could be lethal.
Being on her own with Henry and his brother, little George - in a baby carrier at the time - Christine was able to drive Henry straight to our clinic in White Cliffs. The family was already familiar with the clinic. The team there provides the primary healthcare for all the farming and mining families in the region.
In White Cliffs, the medical staff set about swabbing Harvey's bite. They could find no venom. But the team knew they couldn't be 100% sure without using the hospital facilities in Broken Hill. If there was poison in Henry's system, it was impossible to reach Broken Hill by road in time.
So one of our aircraft collected Henry, Christine and little George from White Cliffs and delivered them all to Broken Hill. At hospital, Henry could be tested more thoroughly - and receive life-saving treatment if venom was present. Luckily Henry was Ok. The bite had been what is called 'dry'.
Christine recalls the experience; "Things like that really bring it home to you. It's just your biggest fear with your kids, a snake bite." But, as Christine says, the Flying Doctor support these families in many ways; "There's immunisations for (the children) and pregnancy checks. Having four children, we access the service all the time. It's pivotal to families living in this country. It's a wonderful service."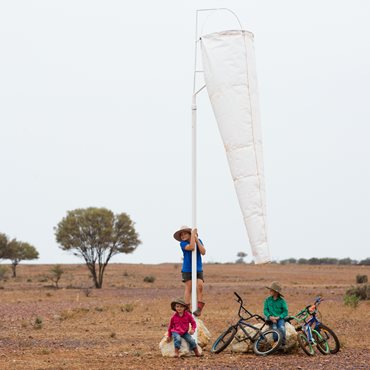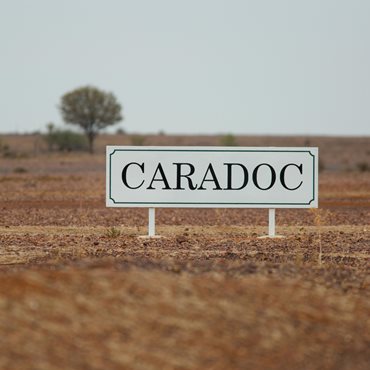 We call it our 'mantle of safety'. It's the essential healthcare services that save the lives of people living, working and travelling in remote and rural areas. And our work actually goes well beyond the emergency evacuations like young Henry's.
We run primary healthcare clinics right across the state. We bring dental care, mental healthcare and drug and alcohol programs to regional areas and indigenous communities. Our teams are constantly working to make sure children and adults in these isolated areas have access to vital services.
Often they're services that we can easily take for granted in our cities and towns.
And every year, it's our mission to provide the best 'mantle of safety' we possibly can - to all those isolated residents and others living, working and travelling in our outback communities. And there's always more life-saving work to be done.
This year, there are 50 airstrip upgrades underway across NSW to help us work with greater safety and speed. Meanwhile, we're constantly maintaining and evolving our equipment and facilities to bring a greater level of care to those in need.
And of course, we couldn't provide this 'mantle of safety' without the generous support of our vital donors and the Australian government.
Recently, donations have covered $9.25 million just in aircraft replacement costs. That's not including the alterations and medical equipment. It costs over $2 million more to fit out a Flying Doctor aircraft with the right modifications for medical retrievals. This covers things like modified cargo doors and a hoist system to bring patients on board on stretchers when necessary.
Then there's the medical equipment. The portable ultrasound is a vital piece of equipment. Costing $60,000, it checks on the health of babies during labour as well as scanning patients' heart, abdomen, lungs and even finding veins.
The Zoll monitor is another essential item. At a cost of $41,800 it plays a key function in emergency situations like cardiopulmonary resuscitation and defibrillation - where a life-saving electric shock may be able to restart a stopped heart.
Meanwhile, the ventilator, at $23,000, consistently saves lives. It's vital for controlling the breathing of trauma patients and anyone else in a critical condition.
As of May 2019, we operate 20 Beechcraft King Air Aircraft and another 10 Patient Transfer road vehicles across New South Wales. Recently, we added a dental van to the road fleet. This van is fully equipped as a dental clinic, travelling to communities not yet accessible by air, to deliver vital oral and dental healthcare.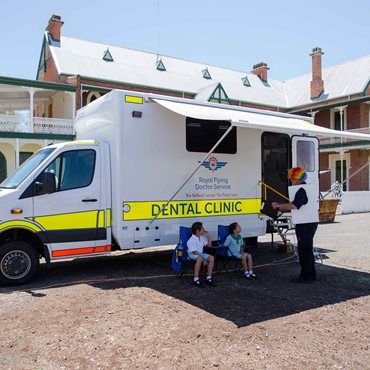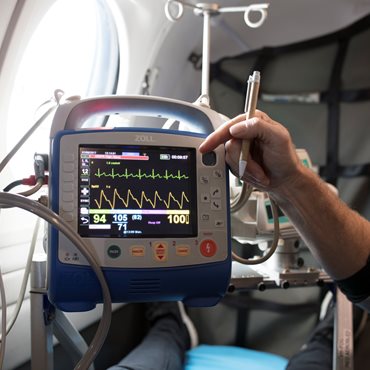 And all of this only happens with the care and generosity of donors and supporters just like you. People who understand the importance of the work we're doing across NSW - and who recognise what it costs to keep our vital 'mantle of safety' in place.
Thanks to the generous support of individuals, corporations, the government and the community, the Royal Flying Doctor Service has proudly served Australians for over 90 years. There are all sorts of ways you can help us continue serving those in need well into the future.
Send your donation to Royal Flying Doctor Service, Reply Paid 3537, Sydney, NSW 2001 or phone us on 1300 669 569
Come in and browse our online store. You'll find a great range of Royal Flying Doctor Service merchandise - and the profits from every sale go to supporting our life-saving work.
Meanwhile, sign up to our Dubbo Visitor Experience email newsletter.