An inspiring learning experience
Take your students on an interactive journey of discovery, experiencing our courageous and innovative people of the Royal Flying Doctor Service as they bring urgent medical care to remote Australia.
Cost: $13 per student
Duration: 1 and ½ hours
Maximum Per visit: 70 students (larger groups will need to be split into multiple visits)
Included (only available during the school term):
Tour of the interactive RFDS exhibition
Education session (subject to availability)
Board a replica King Air Beechcraft (subject to availability)
We are happy to receive your school tour enquiries. Hosting school groups will be subject to Covid-19 government regulations at the time. We will discuss them with you closer to the tour date.
Please note due to COVID-19 requirements, numbers will be capped to comply with current Public Health Orders in place at the time of your visit.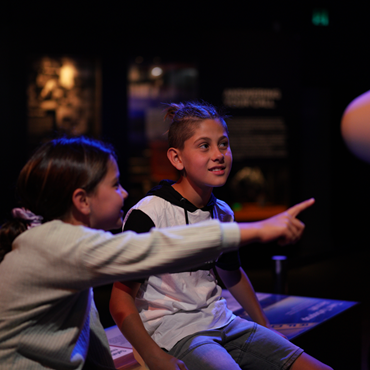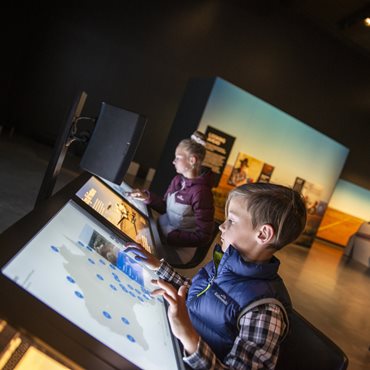 Education Sessions
Stage 1
Growing up an Inlander
Explore growing up and going to school in Outback Australia, then and now. Students recognise how the Royal Flying Doctor Service and School of the Air affect the lives of children growing up in remote areas.
 HT1-2, HT1-3 & HT1-4
 GE1-1 & GE1-3
Stage 2
Living in Australia's Outback
Discover how people live in different environments of Australia and the challenges they face. How the RFDS assists people living in the remote and rural areas of Australia.
GE2-1, GE2-2, GE2-3, GE2-4
Stage 3
Helping Australia Shrink
Explore the development of the Royal Flying Doctor Service and the impact the organisation has had on communities in the outback of Australia.
HT3-1, HT3-2 & HT3-3
The children learnt about the amazing service the RFDS provides for rural and remote communities - for the delivery of emergency medical help and community health needs. Many of our students are on farm, and quite isolated, so they could really understand what a vital service the RFDS is. The education session was informative and engaging because of the clever combination of personal presentation, audio visual, interactive, and aural/oral learning opportunities. The AR iPads were very engaging for the students.
The discussion about what the service does and the engaging and interactive experiences around the centre was the most beneficial part for our students learning. It was very informative and pitched at the right level for our students - A good amount of time.
It was all fantastic, I really enjoyed the educational talk at the beginning with the quiz, it was really informative and engaging. The movie was great, and the hands-on activities and simulations were amazing. We all loved it!
Being able to experience what is like inside a RFDS plane was so beneficial to the students. Great presenter, friendly, approachable, excellent movie and interactive displays. Thanks for a great morning!