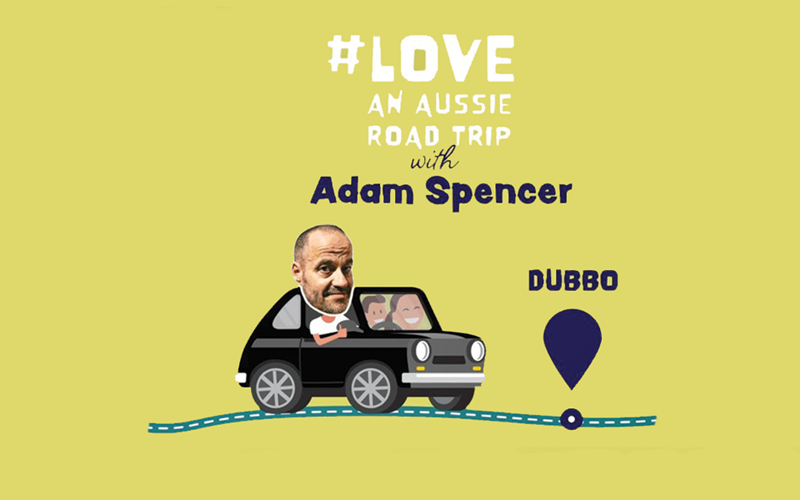 Dubbo Visitor Experience listed as a top attraction on NSW Government and Australia Day Council of NSW series, Love an Aussie Road Trip
News w/c 4 February 2021
The Royal Flying Doctor Service Dubbo Visitor Experience is delighted to be featured in the new web series, Love an Aussie Road Trip. Presented by Adam Spencer, well known media personality, this online video series highlights ten must-do activities around NSW. In the week leading up to Australia Day 2021, new episodes of Love an Aussie Road Trip were released daily by the NSW Government and the Australia Day Council of NSW. As well as providing inspiration for travellers who are looking for exciting places to explore, this insightful series was created to celebrate the Australian spirit and support regional communities. The Dubbo Visitor Experience is proud to be presented as one of NSW's top attractions to visit on your next road trip adventure.
Love an Aussie Road Trip follows Adam Spencer's first ever road trip around NSW with his family. Adam is well-known from his days on triple j, ABC radio and television. He's established himself as Australia's funniest and most famous mathematician. Throughout the series, we watch how Adam is blown away by his outback experience and the people he meets along the way. He shares, "An Aussie road trip is the best way to remind a city slicker like me, how resilient and inspiring people are outside of the big smoke." A stop off at the RFDS Dubbo Visitor Experience will certainly do just that!
In episode five of the series, Adam highlights why you should go to the RFDS Dubbo Visitor Experience on your next road trip, not just to find out about the charity and how we operate, but also to show support for RFDS' vital work. As Adam explains, when accidents happen in the outback, it's the Royal Flying Doctor Service who fly to the furthest corners of the country to help everyday Aussies in their darkest hour. Titled, Heroes of the Royal Flying Doctor Service, the episode celebrates the incredible RFDS team, who respond to 1,000 calls a day from all over Australia, providing essential healthcare and saving lives.
You can check out the Love an Aussie Road Trip RFDS Dubbo Visitor Experience episode using the link below.
As Adam says, the Dubbo Visitor Experience is, "an important stop in Dubbo" and, "the perfect place to give us all some perspective on a road trip." As shown in the episode, there is so much to do when you visit the Dubbo Visitor Experience. It's an immersive, interactive exploration of the world of the Royal Flying Doctor Service:
You'll have the opportunity to get up close to an iconic RFDS plane, and with the help of Augmented Reality, feel like you are right in the middle of life-saving action in the aeromedical aircraft cabin.
You can immerse yourself in our amazing live operations as you watch giant control screens to see where RFDS planes and teams are out and about, saving real lives.
You'll hear inspiring inside stories of the innovative men and women of the Flying Doctor who help keep our remote Aussies safe.
There's another Augmented Reality experience to check out in our treatment room, where you can see first-hand our essential equipment and hear about the dedicated health professionals who operate it.
You can get up close to Australia's first air ambulance airplane, a replica of a De Havilland DH-83 Fox Moth.
You can see an original car from our famous Outback Trek driving event, where intrepid drivers take their 2WD cars for a thrilling journey across rugged Australian outback country.
And while you're there, catch the Flying Doctor planes as they return from their latest missions and take off for the next.
A road trip is a staple holiday for any Australian. In a time when COVID-19 has changed interstate travel, the Love an Aussie Road Trip series is a great opportunity to show off the unique tourist destinations that NSW has to offer and get behind outback communities. Andrew Parker, Australia Day Council of NSW Chair says, "Australians love a road trip and this summer we're bringing the iconic road trip to all the community. After a challenging past year, we can more than ever celebrate Australian regional communities, which have so much to offer."
In Love an Aussie Road Trip, Adam Spencer encourages, "On your next road trip through Dubbo, do your bit to support the Flying Doctors - go and check out the Visitor Experience". To book your visit to the Dubbo Visitor Experience, buy tickets online (Dubbo LGA residents should buy tickets at the centre). The Flying Doctor Visitor Experience is located at the Airport Precinct on Judy Jakins Drive in Dubbo and the centre is open daily, check out our opening times.
As RFDS Chief Medical Officer, Randall Greenburg, explains in Love an Aussie Road Trip, donations received through the Visitor Experience keep the Royal Flying Doctor Service going. This community support allows the RFDS to continue providing all sorts of healthcare to the people of the bush. With every ticket you purchase you'll be supporting our work to save lives and bring primary healthcare to Australia's outback communities.